Becky Cleveland, REALTOR®
Austin Metro Area Expert
The Real Deal TM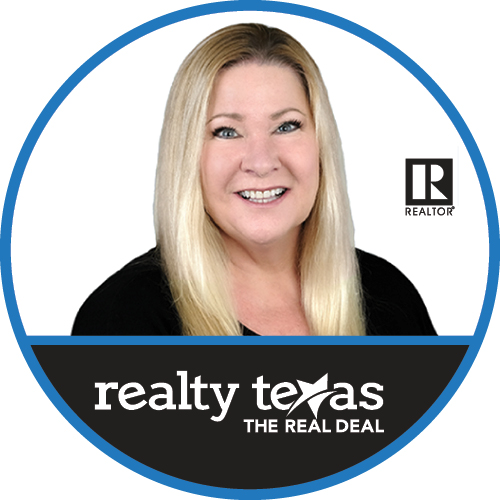 Becky Cleveland
The Real Deal TM
becky-cleveland@realtytexas.com
6 Years Experience
9 Transactions Closed
Becky Cleveland was born and raised in the California Bay Area. After spending a lifetime there and raising two children, Becky decided it was time for a change. This change brought Becky and her family to San Antonio, Texas for a number of years, before moving to Austin. From the moment Becky and her family arrived, they received a big Texas welcome. So, Becky and her family decided to kick off their boots and plant some roots! During this time, Becky and her husband also became empty nesters. Over the years of buying and selling homes, Becky Cleveland was able to pursue her desire to become a REALTOR®, as this was her time. Knowing how detailed and complicated the process can be, it is important to receive accurate and easy to understand information. It is Becky Cleveland's goal to help others understand the process while finding the home that fits their needs. Becky's past experiences with real estate agents that were both helpful and those that just told her where to sign without understanding what she was signing has only made her more driven to provide her clients with the best possible communication, education, and experience when buying or selling a home. Helping people is something that Becky loves to do. If you are a Texas Native or new to the area, Becky Cleveland invites you to kick up your feet and take in the welcoming culture in Austin, Texas!
As a Texas REALTOR®, my mission is defined by more than transactions. Anchored in fiduciary responsibility and trust, I am committed to building enduring relationships on transparency and mutual respect. Through expert negotiation, I ensure that your needs are not just recognized, but championed. My focus is unwavering: to deliver results that align with your unique objectives, placing your interests at the heart of every decision. To me, real estate isn't just a profession—it's a lifelong pledge to advocate for and advance your success.
Tenants, Austin MSA, Residential Leasing.
RTU-01 REALTOR® - Etiquette
RTU-02 REALTOR® - Code of Ethics
RTU-04 Branding - Social & Website
RTU-05 Dot.me - Dashboard
RTU-06 Dot.me - Compliance
RTU-08 Tenants - Rep Forms & Tools
RTU-10 Landlords - Rep Forms & Tools
RTU-11 Sharpen - Working with Builders
RTU-12 Sharpen - MLS & Gateway
RTU-13 CMA - Tenants/Landlords
RTU-14 CMA - Buyers / Sellers
RTU-15 Marketing - Prospecting
RTU-16 Marketing - Reviews & Reputation
RTU-18 Buyers - Rep Forms & Tools
RTU-19 Getting Hired - Listing Appt
RTU-20 Getting Hired - Buyer Appt
RTU-22 Sellers - Rep Forms & Tools
RTU-23 Listings - Coming Soon
RTU-24 Listings - Grand Open
RTU-25 Contracts - Sales Contract
RTU-26 Contracts - Financing & Appraisal
RTU-27 Contracts - Addenda
RTU-28 Contracts - Disclosures
RTU-29 Dot.me - Advanced Rooms
REALTOR®
REALTOR® is a federally registered collective membership mark which identifies a real estate professional who is a member of the NATIONAL ASSOCIATION OF REALTORS® and subscribes to its strict Code of Ethics.
Agent MLS Subscriptions
MLS Code
MLS Name
Association
Agent Name
Status
Austin Board of REALTORS®
Austin Board of REALTORS®
Bastrop County Board of REALTORS®
Bastrop County Board of REALTORS®
Fort Hood Area Association of REALTORS®
Four Rivers Association of REALTORS®
Temple-Belton Board of REALTORS®
Victoria Area Association of REALTORS®
Williamson County Association of REALTORS®
Houson Associantion of REALTORS
Houston Association of REALTORS®
Additional Details
becky cleveland
realtor
empty nesters
buying homes
selling homes
real estate
real estate agent
austin texas